FofR Configuration v0.6
March 17th, 2007, posted by FofR
EDIT: Be sure to read the new Installation Guide & FAQ
EDIT 2: Be sure to help out
Ah ha! Here it is – after a long wait, and it comes with a huge change list.
To summarise my improvements, all configurations and settings have been shifted down to the bottom menu which now comes with it's own tabs. Making new themes has been made easier – each theme has its colour variables defined in a separate track display panel. The major updates also include a new SCPL layout for singles and 'non-album' playlists; a new fullscreen mode with improved functionality; new ratings section with support for album artist; playlist switcher support and lots of new options and bug fixes. Personally I am loving the ratings panel.
Once again it is essential to have the latest PanelsUI (v0.8.1 as of writing) and some new features use the cwb_hooks component, so get that if you don't have it. I tried implementing the Playlist tree panel but it kept crashing so I left it out, sorry.
Get PanelsUI version 0.8+ or this configuration will not work.
Make sure to define the images directory on installation – right click titlebar, select settings > $setpvar(dir,YOUR DIR)
There's a lot of changes here and I advise you to check what's new before you use it:
Version 0.6 (yeah that's a lot of changes)
Theme Colour content moved to separate track displays to facilitate making new colour themes, this is proving to be a little buggy when changing themes & start up in Panels UI versions pre v0.8.1, variables now persist between fb2k sessions so everything works nicely in the latest PUI.
Hotness colours now defined in theme track displays
Improved background image display, now shows on all resolutions – sharp edges smoothed out, less code
Background image variables added to Theme track displays (horizontal shift, vertical shift relative to cover art, top margin shift)
Bottom Menu now location of all options – added tabs to menu
Moved Sort Panel to Bottom Menu
Moved Configuration Options to Bottom Menu
New SCPL for single tracks, random orders, sorting by track title, search results, etc.
Clicking "Sort by Title" automatically switches to new SCPL
Button to toggle between new and old SCPL layouts
All new menu options use existing theme colour variables
Playlist Switcher (Columns UI) support added to Pop Up Browse
Added Randomize to Sort tab, also switches to new SCPL
Added playlist details to pop up browse panel – no. tracks, playlist title, duration of playlist (cwb_hooks dependency)
Fixed Progress Bar Bug for streamed tracks
Added dividers to the vertical pop-up browse panel on SCPL tab
Fixed pop-up info button and text overlay bug
Changed Group by from %album% to "$replace(%path%,%filename_ext%,)" so that groups with one erroneously tagged mp3 aren't split. Basically all tracks in one folder are grouped together. For all those lazy taggers.
In artist sort mode, grouped by $upper(%artist%) to stop case differences from splitting a group, again for all the lazy taggers.
Track number & Track length now show when track selected, when item is focused it shows the total length of all selected tracks instead of the single track length, for example – clicking a group header will select all items in that group and the first item will display the total length in Hours:Minutes:Seconds (cwb_hooks dependency)
Added correct tooltips for all buttons
Spectrum Analyser & Scale Art options moved to config panel in menu to make easier
Huge Code cleanup and commenting added to make editing easier
Added option to enable/disable cover art reflection in Now Playing tab, should make theme creation easier
Added mini now playing tab to bottom menu
Added Ratings panel – Rate tracks from 1 to 5, Rate Albums using ALBUM RATING from 1 to 5; note: this updates your mp3 tags!
Added ALBUM RATING to group header, now shows rating out of 5 if a rating exists
Updated fullscreen mode – NO LONGER SHOWS AUTOMATICALLY, you need to toggle the layout through the menu
Fullscreen: Determine percentage width of column and left or right position
Fullscreen: Now has tabbed browse panels which appear instead of the now playing section – use menu buttons as per usual
Fullscreen: Bottom menu, complete with all new features, added.
This is all best illustrated with pictures: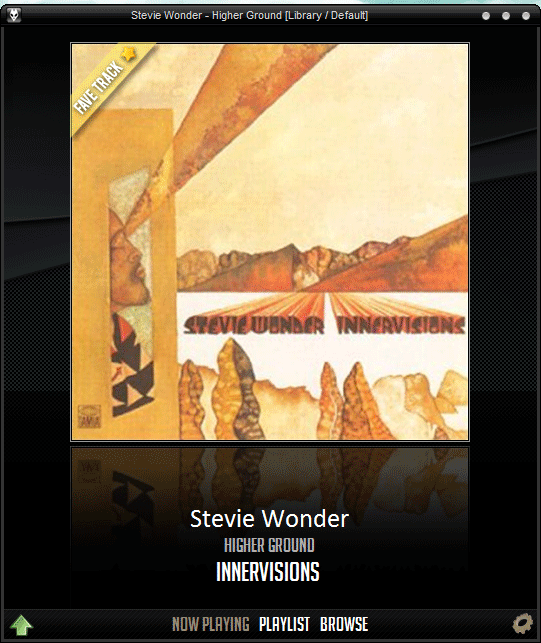 A general overview of the features available in this configuration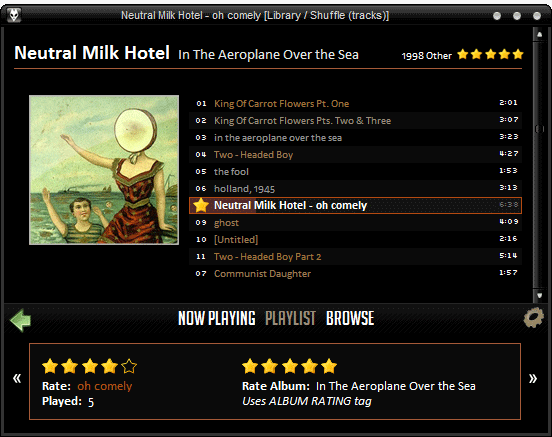 The Ratings Panel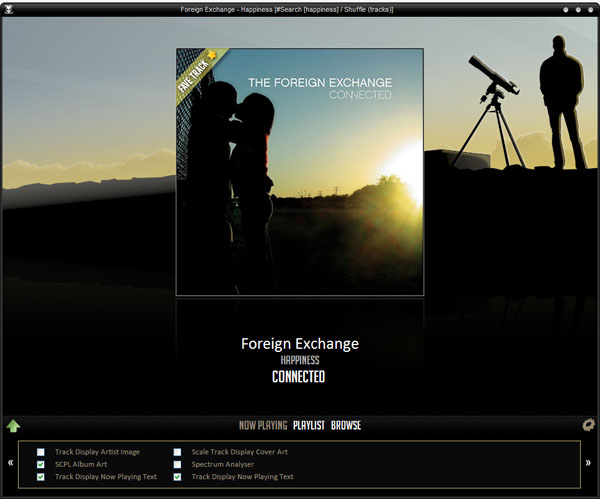 A Theme "s3″ available in the beta theme pack. Beta because not everything works (e.g. s4)
Two download links this time:
Download Beta Theme Pack
Place these folders in the image directory.
FAQ:
Why are there no images / why is the reflection not fading out? / there are blank spaces?
Make sure to define your DIR variable in the main panelsUI configuration where it states $setpvar(dir,K:\…)
The PUI is resetting to a 2kb default file, the config is not working!
Downloads PanelsUI v0.8+ and try again
The Browse panel is blank, why?
You need the Explorer Tree component OR you need to edit the variable $setpvar(tab3panel,…) to display a component you do have, such as a Queue Manager or Playlist Tree.
What components do I need?
On top of PUI, you need: Quick search panel, Album List panel, Playlist dropdown, cwb_hooks. Find them here.
80 Responses to "FofR Configuration v0.6"