FofR Configuration Pack v0.3
February 22nd, 2007, posted by FofR
An update to the code, the changes include:
Added global settings variables on PANELSUI code section to make setting up easier (image sources, images directory, colours, fonts, etc.)
Added a Full screen mode (make sure to set your resolution)
Added option to scale album art with window on Now Playing mode
Added Playlist Dropdown menu to the bottom menu (though it is buggy… PanelsUI or component bug)
Added rudimentary buttons for those that use them (I personally don't)
A refined "more" configuration track display panel.
I have also included the artist download executables in this package, they're only small.
This new version requires you to have the Playlist Dropdown menu component.
This is a preview of full screen mode which is enabled automatically when you fullscreen foobar: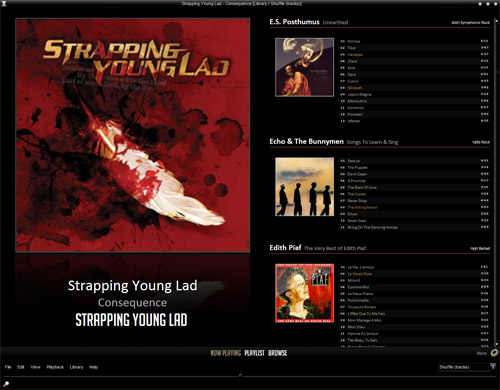 10 Responses to "FofR Configuration Pack v0.3"