Archive for June, 2007
PanelsUI 13 and FofR Previews
June 4th, 2007
Aloha! At last my 6 week fury of 9am til 9pm work marathon, everyday including weekends, has come to an end (I also had Appendicitis, which was fun). I finally have some free time to work on that new FofR Configuration, I have some interesting ideas to try out. In the mean time, our beloved PanelsUI component continues to improve through Terrestrial's efforts.
The latest of revisions is version 0.13.6, and the updates include:
0.13.6
Sysfont-val (val can be caption, menu, message, smcaption, or status) to use the system default fonts. use a font size of 0 if you want to use the default font size and options as well. eg: $font(sysfont_menu,0,,syscol-8)
Ability to hide child node in the library filter. if "!null!" is used the child node is hidden. eg: $if2(%date%,!null!)
0.13.5
Some performance tweaks to improve scrolling speed in scpl
$fontexists(fontname) function
Some other misc tweaks
0.13.0
Library filter tweaks
Transparent background for scpl (scrolling will be slower)
Transparent background for library filter & track displays.
New Library Filter defaults (hit reset page to get defaults)
In the last Panels post I said the URL never changes, turns out Terrestrial changed ISP and my notion was shot to pieces. So we have an all new download URL, aren't these things exciting?
Unveiling the URL in the same vein as London pitifully unveiled their terrible 2012 Olympics logo,
Get your PanelsUI fix here: http://panels.fooblog2000.com/
I have had some time to work on my configuration during the past month, so to give you a teaser of what awaits you in the next FofR version, using the lovely new Panels features: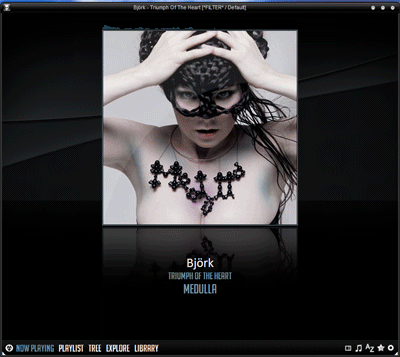 A quick access playlist in the Now Playing tab, I am using this a surprising amount to quickly change track, etc. You may also notice a new blue theme. There's also some new quick image options. Note, the extra tabs are just me playing around.
And a new Library Filter theme (resizing an animated GIF is more effort than its worth so I apologise if the edge of this is cropped):